Waste as a resource
Our work highlights the importance of waste as a resource and the efficient management of materials as a key component of a circular economy.
Our expertise and operational experience has enabled us to help develop the UK's recycling infrastructure, improve collections systems and, working with recycling and re-use businesses, create new markets for its outputs.
Supporting household collections
We are a respected advisor to
local authorities
and
businesses
in the UK.
By adapting our technical and practical support we can meet the diverse needs of local authorities and help them improve the services they provide and the quality and quantity of the materials they collect for recycling.
By forging strong partnerships we are helping to re-define how we re-use and recycle materials.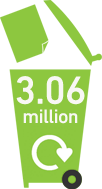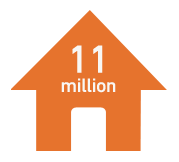 In the UK over 3.06 million tonnes of paper and card were collected for recycling from households in 2011/12 *
* Scotland data is for 2011 only
11 million households now have access to a food waste collection service
Growing the re-use sector
Clothing, textiles, electricals and furniture can all be re-used. By providing funding and technical expertise WRAP has been integral to enabling partnership projects between local authorities, waste management companies and third sector organisations that
increase re-use
within a local area.
Our business support – including trials, funding opportunities, and technical advice – is helping to grow re-use infrastructure, integrating re-use and/or repair into existing recycling operations and helping customers trade in unwanted items for resale.
Creating committed recyclers
WRAP has in-depth experience of running national recycling and waste prevention campaigns that encourage consumers to take action.
Our Recycle Now brand is used by over 90% of English local authorities as well as major brands, retailers and community groups. Our recycling communications strategies are founded on robust consumer insight and have been extensively tested to ensure effective, consistent messaging.
Using the Recycle Now brand and ready to use communication materials helps our partners set up and maintain effective recycling schemes, create more positive public attitudes towards waste and increase the amount of materials being recycled.
Keeping materials in the loop
Reprocessing materials is a vital part of the circular economy. By improving the quality and quantity of recycling collections and supporting the development of new reprocessing capacity, WRAP has helped to develop a £3 billion industry that supports 40,000 jobs.
Our evidence-based approach and market insights support organisations to challenge existing thinking and make informed decisions that improve reprocessing infrastructure.
Initiatives such as the mixed plastic loan fund were established by WRAP to address gaps in reprocessing capacity and accelerate change. By clearly demonstrating the commercial benefits of reprocessing we're helping to boost the UK's 'home grown' recycling capability and turning 'waste' into quality raw materials.